Oruro Hotels and Oruro Hostels, Bolivia


Dear traveller here you will find information about hotels and hostels in Oruro, Bolivia. Fares, confirmed online reservations, description, reviews from other travellers like you and pictures are available to make your reservation in the safe way.

Also, information over Carnaval Oruro 2013 (Oruro Carnival and Diablada Parade Festival 2013), how to get to Oruro (transport from and to Oruro), maps of Oruro.

Gran Hotel Bolivia, Hotel Villafuerte, Hotel Repostero, Alojamiento San Ignacio, Alojamiento San Juan de Dios, Residencial San Salvador, Alojamiento La Paz, Alojamiento Copacabana, Pub the Alpaca, Hotel Bernal, Residencial San Miguel, Residencial Boston, Hotel Samay Wasi, Hotel International Park, Su Majestad Palace, Gran Hotel Sucre, Hotel Eden are the recommended places to make your visit to Oruro an unforgettable experience.

At the following listed hotels and hostels is possible make your confirmed online reservation, please, click on your prefered hotel to continue.
Latest News

Bolivia Independence Day
2014-08-10
Bolivia, officially known as the Plurinational State of Bolivia (Spanish: Estado Plurinacional de Bolivia, Quechua: Bulivya Mamallaqta, Aymara: Wuliwya Suyu),[10][11] is a country in central South America....
More Info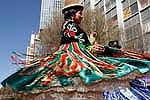 Urkupiña Festival in Cochabamba
2014-08-10
The feast of Our Lady of Urkupiña held between 14-16 August every year in the city of Quillacollo (near Cochabamba). Religious devotion and folk dances are for this purpose....
More Info

Anniversary of La Paz Department on July 16th
2014-07-13
Nuestra Señora de La Paz (Our Lady of Peace; Aymara: Chuquiago Marka or Chuqiyapu) is the administrative capital of Bolivia. This july 16th celebrate one anniversary....
More Info

Tarija Anniversary
2014-04-15
April 15th is the day of Tarija Department. Battle of La Tablada....
More Info